(Falmouth, MA) – The first McLane-manufactured Prawler in the field has surpassed 100,000 meters of profiling and real-time temperature and salinity data transmission.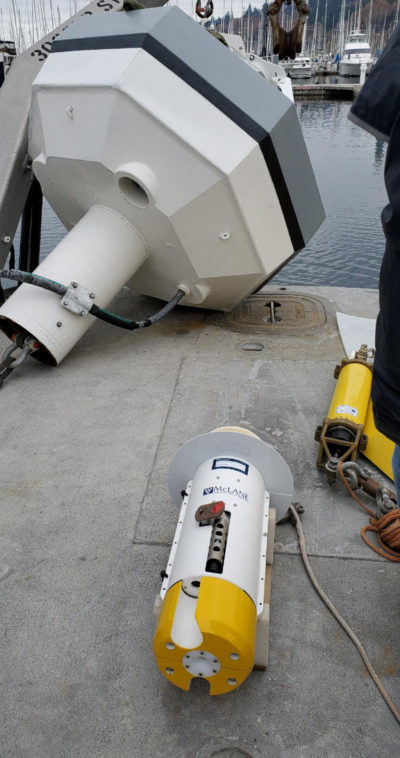 See McLane's
Prawler deployment page
for an updated summary of the 80m deployment. Prawler has been inductively transmitting data from its mooring in Shilshole Bay, Puget Sound, Seattle, WA since November 2019. Data are transmitted to a NOAA/PMEL surface controller, then onto shore using Iridium / RUDICS to NOAA's facilities in Seattle, WA.
"We're really pleased that Prawler's performance for this test deployment has been so outstanding," comments Engineering Manager Tim Shanahan. "Now, we're focusing on the engineering data which we hope to present at an upcoming conference or webinar."
"This is a great test deployment that checks the full functionality of the McLane built Prawler in Puget Sound. We appreciate working with the McLane team to get to this step and are looking forward to further collaboration", says Christian Meinig, Director of Engineering at PMEL.
This deployment is the final phase of the technology transfer between McLane and NOAA/PMEL. The Prawler technology transfer is part of a Cooperative Research and Development Agreement between NOAA/PMEL and McLane.
The Prawler is a low-cost, wave-actuated vehicle that moves along the mooring wire, collecting data from the surface to 500m of the water column. Data can include conductivity, temperature, depth (CTD), optical backscatter, and dissolved oxygen.
Depending on configuration, deployments of up to 20 profiles per day for 12 months are possible. Data resolution from ~2m to 10m+ is settable depending on data and endurance requirements.
McLane Research Laboratories manufactures time-series in situ oceanographic for scientific deployments in the open ocean, and freshwater environments. Three main oceanographic product lines are available:
profilers
,
samplers
and
flotation
.